Behind the Lines: Robins prop shop keeps C-130s flying | News
C-130 Hercules airplanes fly people and supplies all around the world supporting the military.
When they come home, workers at Robins Air Force Base repair each part including the four propellers onboard.
13WMAZ went Behind the Lines and into the vital mission of the prop shop.
About 100 people grind metal in Robins prop shop, but it's the only place in the entire Department of Defense this work happens.
"It's loud. It's very loud," Tracey Owens, a mechanic, said.
Owens and the other prop mechanics pump out about 30 props each month.
"We are an overhaul facility," Kyle Barrett, another prop mechanic, said. "We take it down to the bare metal."
"The props come in dirty and damaged," Barrett said. "These have probably been in Afghanistan, you know, the elements out there. Nothing but sandstorms."
Mechanics like Barrett use a hydraulic robot called an Ultra Boss, to blast away build-up on the blades.
"It shoots at 40,000 PSI. Your normal car wash is about 2,000 PSI," he said.
Other mechanics scour the pumps and pistons that power the entire prop. They check parts for cracks by dipping them in green goo that glows under ultraviolet light. Imperfections could become fatal flaws for airmen in the field.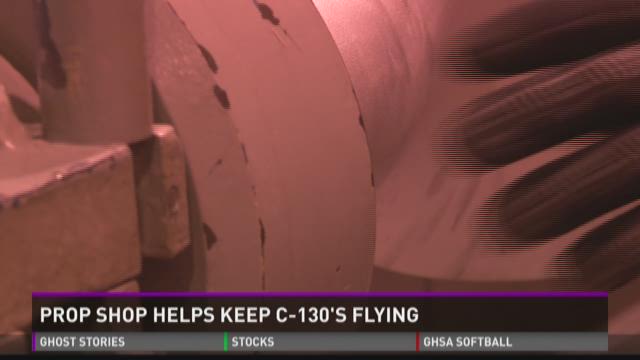 "They can't pull over off the side of the road because of a flat tire," Barrett said. "The prop goes dead, (and) the whole airplane could crash because of that."
Charles Speegle, also a mechanic, started working the shop two years ago.
"So many things have to come together to make it work," he said. "I was pretty shocked at how much goes into overhauling a prop blade."
Speegle operates a robotic sander that polishes the metal to a high gloss. Hardened foam encases the base. Then, then a baked-on electronic plating protects it all from corrosion. After all of the parts have been completely dissembled and put back together, the last step is for them to be tested before going back on the airplanes.
The overhaul process of the prop takes about a month, but the high-level, hands-on work pays off.
"We got planes and soldiers all over the world, waiting for us to get that work out," Owens said.
If it's work on props for a C-130 plane, it has to happen at Robins Air Force Base. The Robins prop shop recently took on work to repair propellers for P-3 airplanes flown by the Navy. They hope to attract additional workload as the military consolidates because of budget constraints.