Chrissy Miner to become President at Museum of Aviation | News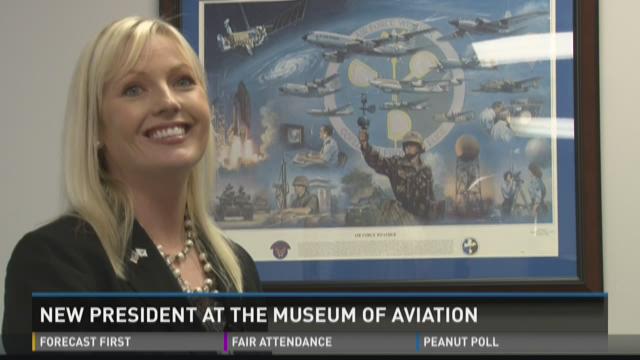 The Museum of Aviation in Warner Robins will soon have a new leader. President and Chief Operating Officer Patrick Bartness says he's retiring at the end of the year and Chrissy Miner is replacing him.
Miner is the COO at 21st Century Partnership and has 16 years of experience in the Air Force. Claire Davis met with her on Monday to learn more about how she plans to keep the museum growing.
Chrissy Miner is no stranger to the Air Force. "I was stationed at Fort Hood, that was my last active duty Air Force assignment. And we were deployed out in the field and I had to go to the bathroom really bad and the Port-a-Potty was right on the other side of this concertina wire. So I decided I was going to hop the concertina wire to get to the Port-a-Potty and ended up shredding my pants," said Miner.
She's served 16 years as a meteorologist and public affairs officer. "I'm proud to serve and to wear the uniform. I have the unique honor of being a citizen airman, which means I get to work a day job and then I get to serve my country, you know, when needed," said Miner.
Miner is the Chief Operating Officer at 21st Century Partnership, an organization that helps sustain Robins Air Force Base. But Miner is heading to the Museum of Aviation to replace President and COO Pat Bartness, who says he's retiring at the end of the year. "Make it known outside of Georgia even in the southeast, of what a tremendous asset that museum is. It's a crown jewel and we hope to to help continue on the great work that has been done to just let people know of the fantastic exhibits and what it brings to this area," said Miner.
Bartness says even though he's retiring, he'll continue to help raise money for the museum. He says Miner is a great choice to help push the organization into the future. "She knows the local area. She's a good speaker, knows a lot of people, she's a fundraiser. I think she's perfect choice," said Bartness.
Miner says she can't wait to get into the museum and get to work. "Having both perspectives of outside the fence and inside the fence. There's a synergy there for sure," said Miner.
Miner says her main goal is to put the museum on the map and attract tourists from all over the country. She'll start her new job on December 1st.